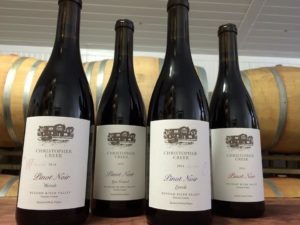 In 2011, Christopher Creek Winery was up for grabs and, like many other wineries, was likely to be sold to a large conglomerate with minimum respect for the craft.  Not wanting to see their beloved winery lost to the big-wine business, the former owners waited for the perfect fit. Today, Christopher Creek is co-owned by Dominic Foppoli, his brother, Joe Foppoli, and his best friend since childhood, Liam McCormick.
With a growing interest in Rhone-style wines, Christopher Creek offers the opportunity to taste deep peppery Syrahs, a light, refreshing Viognier, and a multitude of varietals in between. Also on the estate are some of the most award-winning Petite Sirah grapes in California. While continuing the long tradition of incredible Syrahs, Petite Sirahs, and Zinfandels, the new owners have started a remarkable Pinot Noir program.
The Foppoli family has been growing grapes and producing high-end wines in Italy since the 1470s, and their vast experience and penchant for perfection in the winemaking process can be tasted in every sip. Like in most families, loyalty is a characteristic that is paramount to the culture of Christopher Creek.
Once you have enjoyed wine with the family here, you are family too.